5 redenen waarom Location Marketing de sleutel naar jouw groei in 2019 is
Wat is Location Marketing
Location Marketing richt zich specifiek op de gemeenschap rondom een lokale onderneming. Het kan in een notendop worden omschreven als het proces waarin de online aanwezigheid van een fysieke locatie van een bedrijf wordt geoptimaliseerd, zodat voetverkeer en bewustzijn in de lokale omgeving worden gedreven.
Waarom is dit type marketing zo gegroeid de laatste tijd?
Wanneer je denkt dat mond op mond reclame voldoende is om het verkeer naar je lokale bedrijf te drijven/gevonden te worden door nieuwe klanten, dan is het tijd om je marketing aanpak te herzien. Wist je dat, vorig jaar, 97% van de klanten hun lokale bedrijven vond via het Internet?
Deze trend komt door een simpele reden: een toename in gebruikers die vertrouwen op mobiele telefoons, tablets, en diens begeleidende geo-locatie technologie. Op locatie-gebaseerde marketing heeft altijd bestaan (denk aan de Telefoongids), maar technologie heeft klanten pas net aangespoord om naar bedrijven te reiken op nieuwe manieren.
Om je competitie voor te blijven is het nodig om de moderne klanten ervaring te herkennen en jezelf hierop aan te passen. Simpel gezegd: je moet gevonden kunnen worden waar klanten zoeken; online adresboeken, beoordeling websites, sociale media, en wat voor locatie-gebaseerd platform dan ook.
Waarom moet je locatie marketing prioriteren in 2019?
Op locatie-gebaseerde marketing wordt alsmaar populairder en betaalbaarder – en het werkt voor elk soort bedrijf. De belangrijkste redenen waarom je het gebruik hiervan moet overwegen zijn de volgende:
1. Het helpt met het genereren van meer verkopen
Het doel van elke marketing marketing campagne zou het aantrekken van meer klanten moeten zijn. Op locatie-gebaseerde marketing kan helpen door je bedrijf op de juiste plek te tonen wanneer dit het belangrijkst is: wanneer zij relevante lokale zoekopdrachten uitvoeren. Laten we zeggen dat je een café runt: wanneer een klant "koffie in mijn buurt" intypt, is dat het moment waarop hij of zijn geïnteresseerd is in het kopen van je product. Het maakt niet uit welke zoekmachine hij gebruikt, hij zal gelijk een lijst te zien krijgen van fysieke winkels die koffie verkopen in zijn omgeving. Hoe hoger je op deze lijst verschijnt, des te meer kansen zul je hebben om gekozen te worden door de gebruiker.
Dit is vooral duidelijk te zien bij Google.
Bij het uitvoeren van een lokale zoekopdracht op Google, zal een gebruiker die zoekt op "Café in mijn buurt" slechts drie opties te zien krijgen – met een drop down menu waarin 'meer plaatsen' meer opties bevat.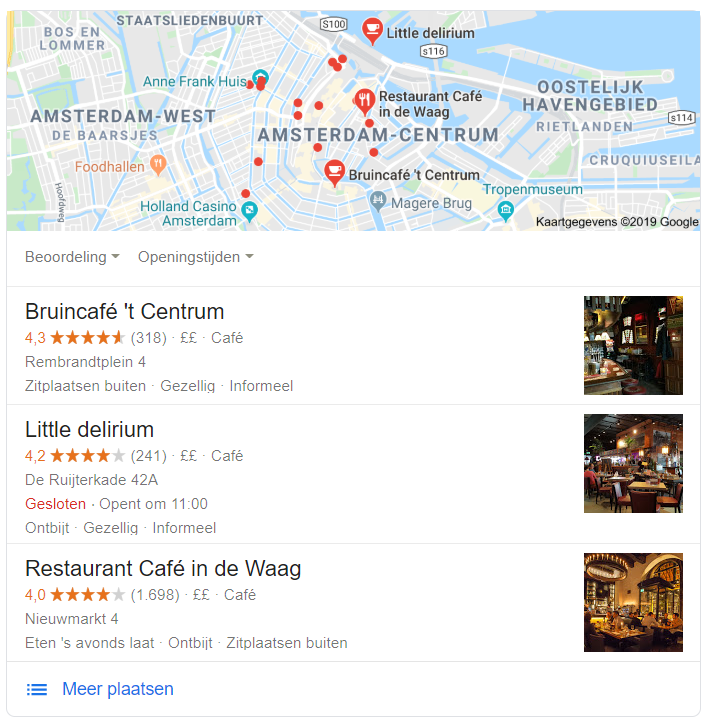 Volgens een survey uitgevoerd door Moz, klikt slechts 8% van de klanten op "meer" resultaten, terwijl 44% van de klanten hun keuze maakt gebaseerd op de eerste drie lokale resultaten. Dit betekent dat wanneer je niet in deze top 3 lokale vermeldingen staat, je mogelijk voetverkeer misloopt.
2. Maakt hyper-segmentatie ontzettend gemakkelijk
Wie anders heeft meer kans om je bedrijf te bezoeken dan de mensen die op loopafstand van je producten of service zijn?
Met Location Marketing richt je jezelf op toekomstige klanten in een uitzonderlijk specifiek, geographisch afgebakend gebied, soms slechts een paar blokken of straten, terwijl zij "in mijn buurt" zoekopdrachten uitvoeren op hun mobiele apparaat.
Laten we bijvoorbeeld zeggen dat je een medicijn nodig hebt waarvoor je naar de dichtstbijzijnde apotheek gaat. Wanneer je daar aan komt ontdek je echter dat ze dat medicijn niet langer verkopen. Wat doe je dan? Je pakt je mobiele apparaat en voert een "in mijn buurt" zoekopdracht uit voor apotheken in de buurt van je locatie.
Dat is Location Marketing in een notendop.
3. Het helpt bij het verbeteren van de ervaring van de klant.
John moet zijn schoenen laten repareren. Hij zoekt op "schoenen reparatie in mijn buurt" en identificeert Luuk's Schoenenmaker als de beste keuze uit de top drie lokale vermeldingen. De winkel heeft goede recensies, mooie foto's en bevindt zich onderweg naar huis van werk – het is de perfecte keuze. De winkel informatie zegt dat ze dichtgaan om 7 uur 's avonds. John vertrekt om 6 uur van zijn werk en arriveert bij de schoenenmaker om kwart over 6, mooi op tijd, denkt hij. Maar de winkel is dicht. Luuk's schoenenmaker heeft andere openingstijden vanwege de zomervakantie, maar heeft deze informatie niet online geupdate. John is niet blij. Hij laat een negatieve recensie achter en vertrekt naar het tweede beste lokale resultaat. John zal bij de concurrent winkelen, simpelweg omdat een bedrijf accuraat van informatie voorziet en de ander niet.
Inaccurate of missende vermeldingen kosten je klanten. Niet alleen halen ze je zoek rankings omlaag, ook leiden ze tot een frustrerende ervaring voor de klant. In de 2018 Local Search Ranking Factors Survey, gaf 66% van de marketing experts aan dat Google My Business vermeldingen en recensies de elementen zijn die de meeste impact zullen hebben op de online aanwezigheid van een lokaal bedrijf.
Als je vermeldingen inaccuraat zijn, zullen je klanten foute openingstijden of contact informatie zijn, wat leidt tot een grotere kans op klantontevredenheid, negatieve recensies, en het verlies van toekomstige omzet.
4. Het zorgt voor nieuwe Facebook recensies in slechts minuten
Gedurende de laatste paar jaren zijn klanten steeds meer gaan communiceren met bedrijven via sociale kanalen, en geen sociaal platform is populairder dan Facebook. 74% van de klanten geeft aan Facebook te gebruiken om meer informatie over bedrijven te vinden, en dat is natuurlijk inclusief het lezen van recensies.
Zou je meer Facebook recensies willen krijgen – zonder er om te hoeven vragen? Met Location Marketing kan dat. Hier is hoe het werkt: een gebruiker "checkt in" op een locatie door het gebruik van geo-tagging op Facebook, en in 1-2 werkdagen daarna zal Facebook hem iets als volgt sturen: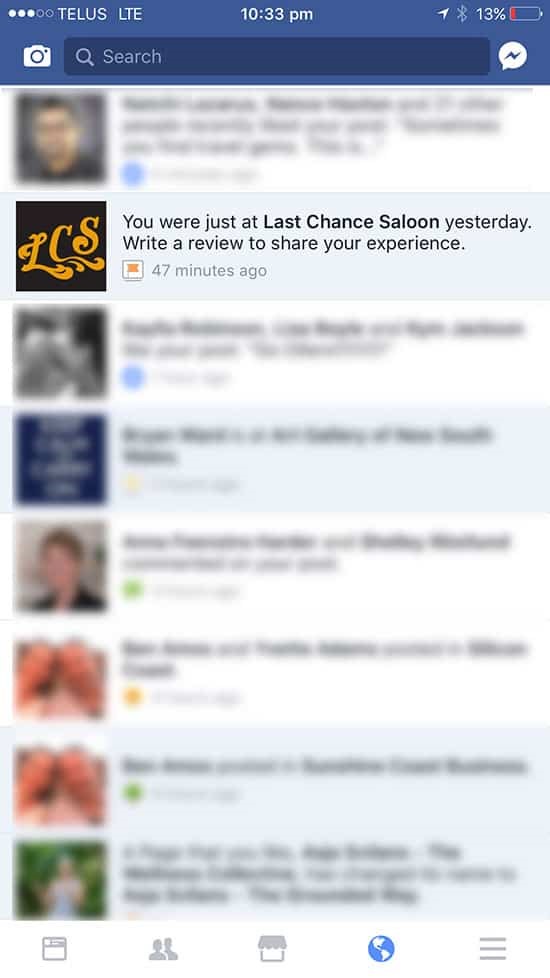 Het automatische recensie verzoek van Facebook is gebaseerd op check-ins, zodat de ondernemer niks hoeft te doen!
Maar om je Facebook deze functie te kunnen laten gebruiken zul je er zeker van moeten zijn dat je locatie targeting accuraat is met correcte en complete bedrijf informatie.
5. Het helpt bij het bereiken van meer klanten.
Vandaag de dag zijn aanbevelingen die gebaseerd zijn op locatie een onderdeel van elk sociaal platform.
Met name Facebook, welke je in staat stelt je vrienden te vragen om locaties aan te bevelen in specifieke steden. Bijvoorbeeld, als je een vakantie aan het plannen bent, zou je je vrienden kunnen willen vragen om restaurant aanbevelingen in de buurt. Hoe? Klik in de zoekbar "Vraag om aanbevelingen", selecteer je locatie en het soort bedrijf wat je zoekt. Wanneer een Facebook vriend een locatie aanbeveelt in het commentaar, zal het algoritme automatisch de Facebook pagina van het desbetreffende bedrijf taggen en op de kaart tonen.
Desalniettemin, als het bedrijf geen Facebook pagina heeft of een fysiek adres dat er mee geassocieerd kan worden, zal het niet getoond worden. Zo belangrijk zijn je vermeldingen voor lokale bedrijven!