Email marketing voor de horeca:
Vier manieren om klanten aan te trekken én te behouden
E-mailmarketing: een goede zet voor jouw restaurant
E-mailmarketing is een effectieve en goedkope manier om zowel nieuwe als bestaande klanten de weg naar je horecazaak te laten vinden.
Zo bereik je een divers publiek en blijf je voor al je doelgroepen relevant – mits je het op de juiste manier inzet.
Onze unieke tool helpt je om je marketing te personaliseren en je klantenkring te vergroten. Zo maak je van toevallige bezoekers vaste gasten. Klinkt niet slecht, toch?
Zo ziet een succesvolle e-mailcampagne eruit
Het succes van je campagne valt of staat met de kleine dingen: de truc achter succesvolle e-mailmarketing is segmenteren en personaliseren.
Focus dus op het delen van een sterke boodschap die goed blijft hangen bij het type publiek dat iets aan die informatie heeft. Met andere woorden: als je stamgasten en nieuwe bezoekers op dezelfde manier aanspreekt, levert dat weinig doorlopend voordeel op voor je bedrijf.
Maar hoe krijg je grip op je boodschap, zodat je je klanten rechtstreeks en zo effectief mogelijk kunt aanspreken?
We hebben ter inspiratie een aantal tips en voorbeelden verzameld voor het gericht benaderen van de verschillende klanttypes uit je mailinglijst – inclusief persoonlijke aanbiedingen en promoties om ze telkens weer terug te laten komen. Hieronder vind je ze allemaal op een rijtje:
Nieuwe bezoeker
Hoe benader je een nieuwe bezoeker? Eén manier om een nieuwe bezoeker nog eens terug te laten komen is door ze een incentive te bieden dat ze bij hun volgende bezoek kunnen gebruiken.
Back Yard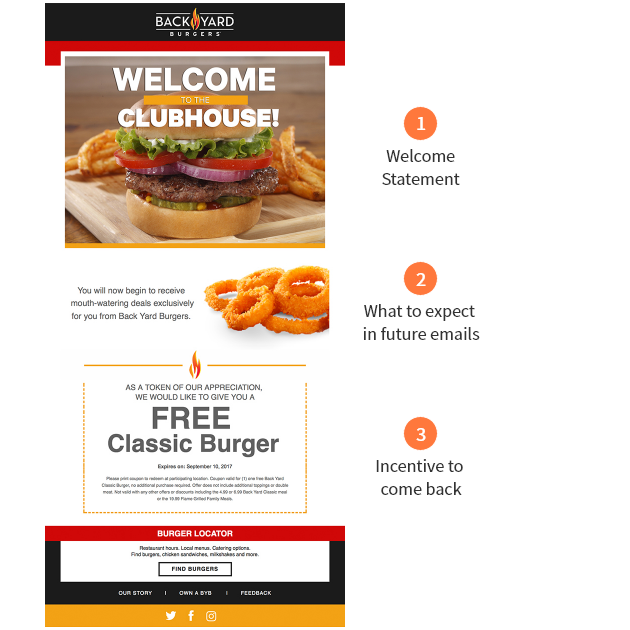 Voorbeelden van incentives voor jouw klanten:
Kortingen en speciale aanbiedingen (krijg € 10 korting op je eerste bestelling)
Loyalty-programma (ieder zesde drankje gratis)
Bring-a-friend (1+1 gratis)
Vaste klant
Goed om te weten: bestaande klanten zijn het allerbelangrijkst voor je bedrijf. Onderzoek toont aan dat ze gemiddeld maar liefst 67% meer bij jouw bedrijf besteden! Als je wil dat klanten blijven terugkomen, is het belangrijk dat je je best doet om ze te behouden. Leg je vaste klanten dus in de watten!
Nando's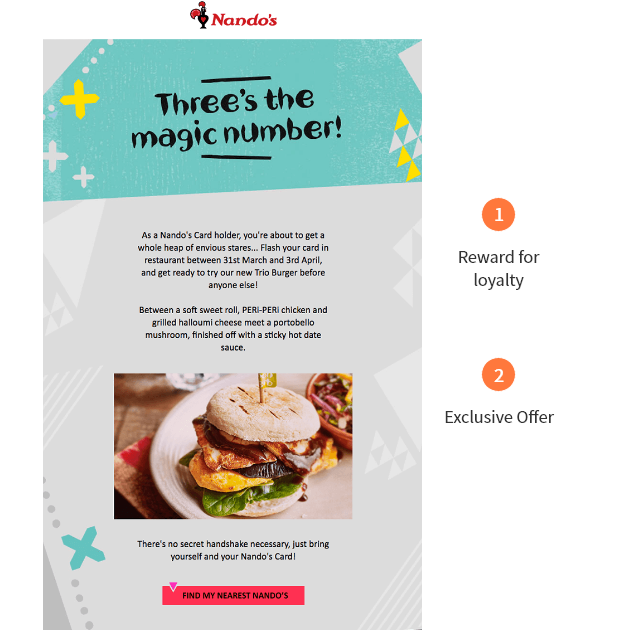 Voorbeelden van exclusieve aanbiedingen voor jouw klanten:
Sneak previews van nieuwe gerechten
Uitnodigingen voor speciale evenementen
'Meet the Chef': neem letterlijk een kijkje in de keuken
Welkom terug!
Klanten die weglopen kosten je geld. Daarom is het belangrijk dat je – naast het onderhouden van je vaste klantenkring – ook zorgt dat klanten die al een tijdje niet langsgeweest zijn hun gezicht weer laten zien. Hoe je dat doet? Door ze gerichte aanbiedingen te doen die het aantrekkelijk voor ze maken om weer eens langs te komen.
Buca di Beppo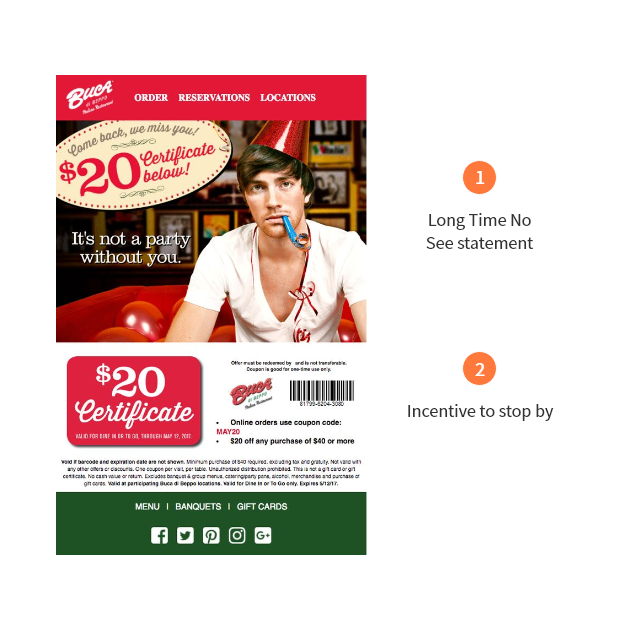 Voorbeelden van incentives voor jouw klanten:
Kortingen en acties
Kans om het nieuwe menu uit te proberen
Feesten en partijen ('Het is al bijna 2020! Kom proosten op het nieuwe jaar in één van onze restaurants.')
Verjaardagsacties
E-mails met verjaardagsacties zijn waarschijnlijk het effectiefst van allemaal. Uit onderzoek door Experian blijkt dat die maar liefst 481% vaker geopend worden dan gewone promotiemails!
Jersey Mike's Subs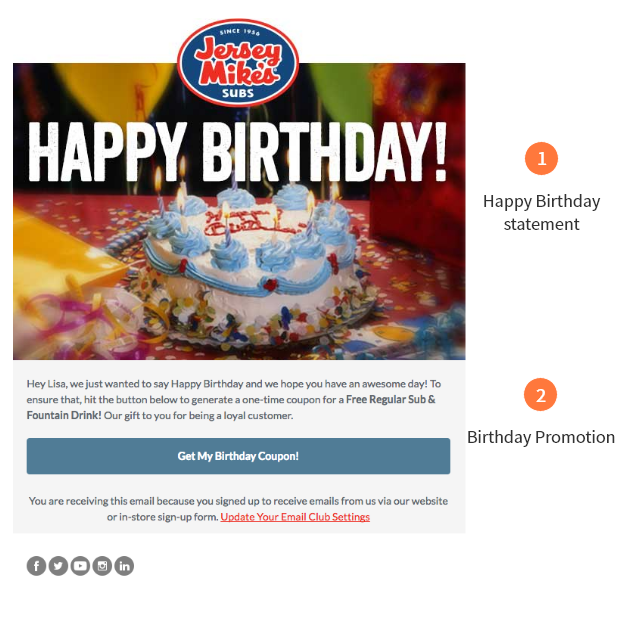 Voorbeelden van verjaardagsacties voor jouw klanten:
Kortingsbonnen
Speciale acties (bijvoorbeeld gratis bezorging bij online bestellen)
In-store verrassing ('Kom langs voor een speciale verjaardagsverrassing!')
Nu weet je hoe je e-mailsegmentatie kunt inzetten voor jouw horecazaak. Lees ook eens ons artikel over hoe je spamfilters kunt omzeilen zodat jouw interessante content op de juiste plek terechtkomt: in de inbox van jouw klanten!