Restaurant Email Marketing –
How to attract and retain customers
(with examples)
The key to a successful restaurant marketing campaign? Personalization and segmentation. Discover how to address your customers in a unique way and get them back over and over again.
Why you should consider Email Marketing for your Restaurant
Email marketing is a great cost-effective way to draw new customers to your venue and, at the same time, reach existing patrons.  When it's done correctly, in fact, restaurant email campaigns allow you to connect with a diversified audience and remain relevant for each one of your target groups.  
One unique tool can help you personalize your marketing efforts while growing your customer base by turning casual visitors into regular diners at your establishment. Not bad, uh?
Anatomy of a Successful Restaurant Email Campaign
That being understood, the success of your campaign depends on fine-tuning your messages: the key to effective email marketing, indeed, is "segmentation" and "personalization". You need to focus on delivering meaningful and memorable information to an audience who will benefit from hearing that message. In other words, addressing regulars and those who are still new to your business the same way won't bring any consistent benefit.
So, how to control your messages in order to speak directly and effectively to your customers?
Here are some ideas (with top-notch examples) to help you target your emails based on what is most likely to work with different kinds of customers – and keep them relevant with personalized offers and promotions.
First time visitor
How do you reach out to a first-time visitor? As we want to turn a one-time customer into a returning customer, an option is to offer guests an incentive that they can redeem at their next visit.
Back Yard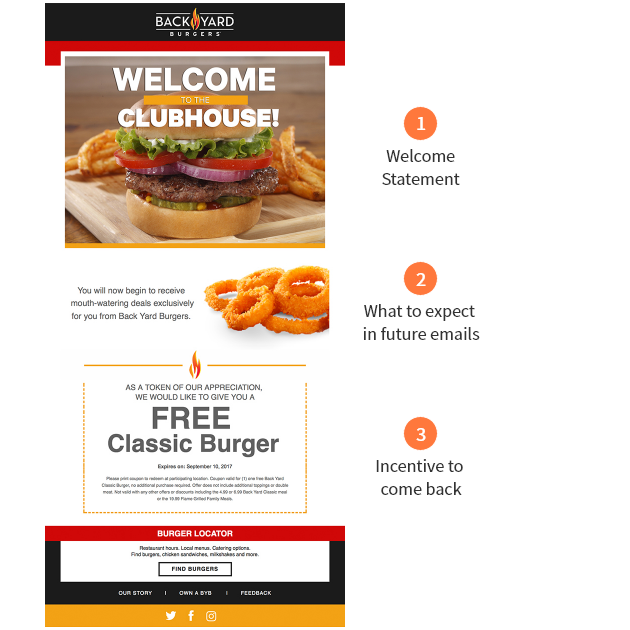 Some ideas for your incentive:
Discounts and special offers (Get 10 € off your first order)

Loyalty Program (Buy 5 drinks and the 6th is on us)

Bring a Friend  (Buy one, get one free)
Repeat visitor
Did you know? Your most valuable resources are your existing customers: according to research, they are likely to spend 67% more money with you! You should concentrate on customer retention to encourage your guests to return again and again. Never take a repeat visitor for granted!
Nando's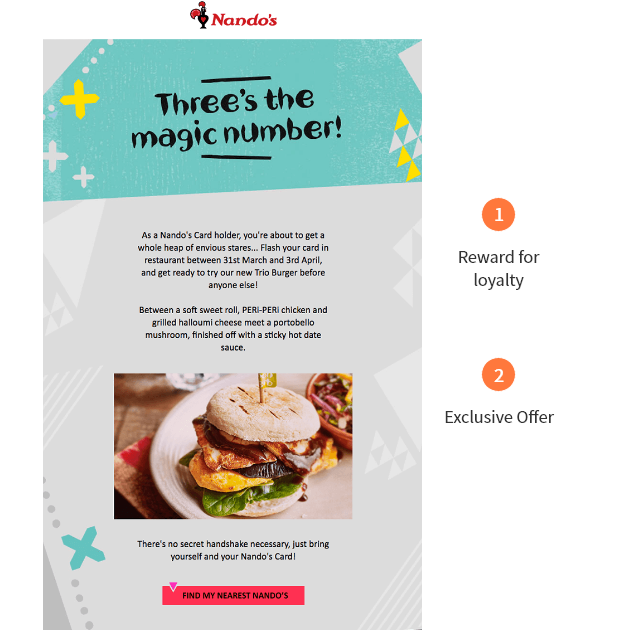 Some ideas for your exclusive offer:
Exclusive preview of menu items

Exclusive invitation to special event

Exclusive opportunities to meet the chef
Long time no see
Losing a customer is costly. In addition to retaining your existing clientele, you need to make sure you actually bring back customers you haven't seen in a while. How? With targeted offers to encourage them to stop by your venue once again.
Buca di Beppo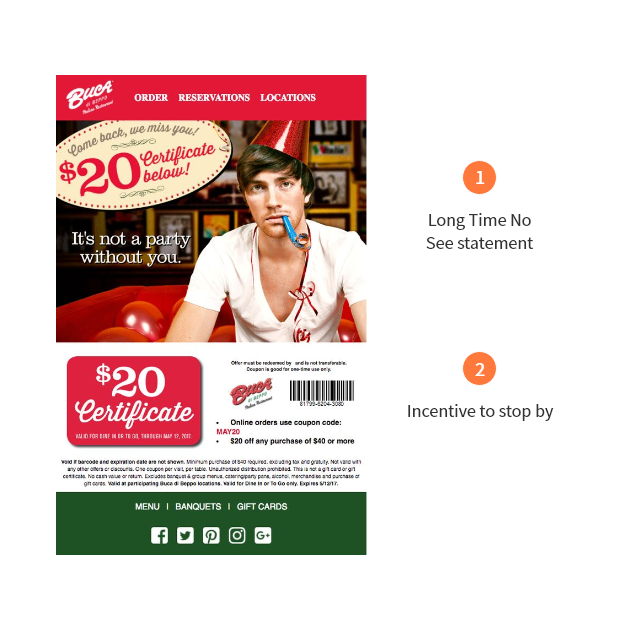 Some ideas for your incentive:
Discounts and promotions

Showing off your new menu

Feasts and Celebrations (

2020 is almost here!

Ring in the new year with a delicious meal in one of our restaurants.)
Birthday Promotions
Birthday email promotions are probably the most effective ones: according to Experian data, they have 481% higher conversion rate, compared to promotional emails!
Jersey Mike's Subs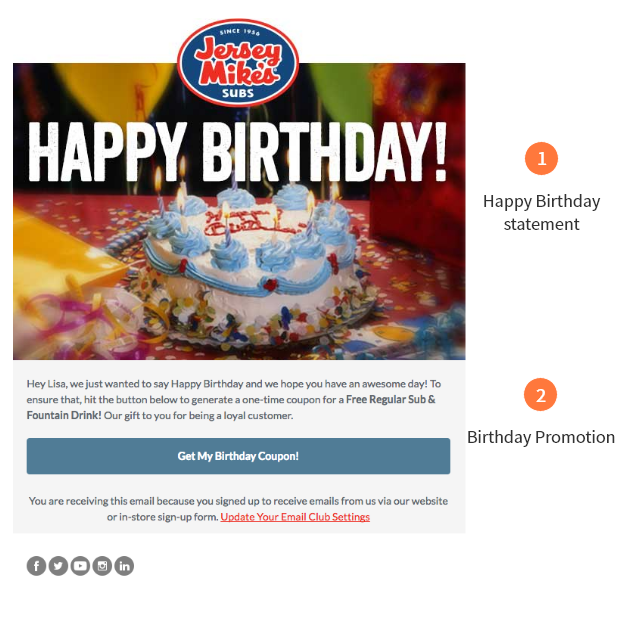 Some ideas for your Birthday promotion:
Discount coupons

Special benefits (such as free delivery on online ordering)

In-store surprise (

Drop by today and you'll get a special surprise for your birthday!)
Now that you know how to segment your customer base with restaurant email marketing, take a look at our article on how to avoid spam filters to make sure your great content lands in the right folder – your readers' Inboxes!
Interested? Leave your email below, we'll get in touch with you.